16 Ways Businesses Can Use QR codes
16 Ways Businesses Can Use QR Codes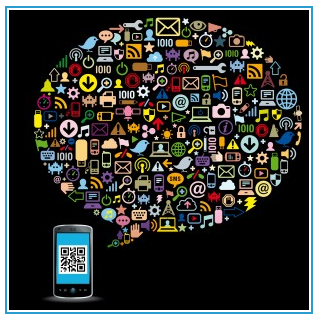 First and foremost, QR stands for  QUICK RESPONSE because once QR codes are scanned, before we can blink, a response it awaiting. The response to someone's scan is dependent on what we link the code to. We (you, me, The App Chicks, businesses, Joe Schmo, Jane Doe, Barack Obama, Jimmy down the street, anyone) can use QR codes to direct people anywhere we want online. ANYWHERE. The visually obscure blueprint of patterned blocks that compose a QR code is magical for marketers, which means it's valuable for businesses. Before customers can scan a QR code, they first download a free app on their smartphones that enable them to scan QR codes (most smartphone owners have already completed this task on their own free will). When they approach a business's QR code, they scan it to unlock a wealth of information, an exclusive deal/coupon, or anything else the creator of the code desires. Well known, big-name companies have already experienced the fruits of QR codes. They have seen the positive outcomes of this powerful tool and their direct response rates and brand awareness have increased exponentially.
True story #1: Verizon (you know them) strategically placed QR codes in print ads, direct mail, in-store displays, and websites to promote its Droid smartphone line. In just under 4 months, Verizon accrued over 150,000 QR code scans for this campaign.
True story#2: Tesco, a global supermarket chain in South Korea, they got even MORE creative with their QR codes. While subway riders were on their way to their destinations, they were able to scan QR codes on virtual grocery shelf displays to buy products to be delivered to their homes.
True story #3: The most extravagant PR move thus far is a GIGANTIC QR code situated on the roof of Facebook's headquarters. This QR code can be seen from outer space!
Sure, you may not want to follow the ways of Verizon, Tesco, or Facebook. The point here is there are NUMEROUS creative and practical ways to utilize QR codes to benefit your business. Here is a list of 13 ways (some taken by FastCompany.com) your business may want to leverage QR codes:
QR Codes on business cards. This is the idea that less is more. Design a business card with only a few pieces of important information, and add a custom QR code that directs people to your social media sites (FB, Twitter, LinkedIn, Yelp, etc.) or allow the QR code to provide directions to your store.
Scavenger hunts. This is an engaging activity where a store owner or bar owner places QR codes within a specific physical area. It is set up like a game where customers search for these codes and the top 3 winners (whoever scans the last code) win a prize (discount, free item, etc). It's a great way to get people involved with your company.
Labeling. Somewhere, a restaurant patron is enjoying wine from your vineyard. When they see the QR code on the bottle they are enjoying, they scan it for a quick and quickly receive details on how to order it that instant. 1-2-3…it's that easy.
Storefront displays. Most retail companies do not stay open 24 hours a day, 7 days a week. Don't disappoint existing and potential new customers after "closing hours." Create a Shop Online Now! QR code and place it in your storefront window.
Promotions, discounts and giveaways. Create discounts only for people who scan a specific QR code. You can easily run these codes in ads or post them throughout your store. You could even turn them into a "retweet" or Facebook "share" so your shoppers share their discount with their friends, family, and followers.
Loyalty program. Forget the punch cards. Place a special QR code at the front register of your coffee shop, for example, and after patrons make their purchases ask them if they are part of your QR Loyaly Club. Direct them to scan it and it will automatically tally how many times they have made a purchase. After so many, they will receive a discount.
T-shirts. Put your QR code on your t-shirt for some shameless self-promotion. Or, make a bigger impression by printing up 100 t-shirts and put them on 100 interns and have them attend a public event like a ballgame, street fair, or campaign stop. For more engagement from the crowd, put different messages on the shirts, so people take more scans of more of your codes.
Get funky with your QR Code design. Once your QR code has been generated, you can add an image like The App Chick's have done (see below).
Use QR codes to get Likes and Follows. You can create mobile-friendly landing pages with Facebook like buttons or lead them to your Twitter page for a quick follow. The name of the game is engagement, so a like or follow can create a long-term marketing opportunity. Caveat: so far the Like buttons that QR tags generate lead to the Facebook website rather than the mobile app. I don't know about you, but I rarely log into Facebook's website from my phone, so that requires extra steps the average person may not be willing to take.
Supplement your retail space. QR codes next to pieces of art could help art galleries move more art, or museums replace those aging audio tape tours. Hardware stores could link to how-to videos on YouTube of how to use specific power tools. Groceries could link to pages that talk about how their products were sourced, and perhaps to interviews of the farmers who grew the food. Electronic shops could bring visitors to review sites so they could get unbiased reviews of stocked products. Or to an e-commerce site where shoppers could buy out-of-stock items. Book stores could link to their own reviews of books on their blog.
Increase e-commerce sales. Since QR codes can lead to URLs, you can develop a QR code that will offer specific products with a shopping cart!
Build your email subscriber list. Use your QR code to send people to your email signup. Just make sure you give people a compelling reason to subscribe to your list…otherwise you will have just wasted their time.
Get the phone ringing. QR codes can also make a phone call. If you want to get the phones ringing–at your business or at campaign headquarters–you can create a code that will dial a predetermined number. Similarly, QR codes can generate SMS text messages.
You can do all of these things and more with The App Chicks' Mobile Text Marketing solution! To see how you can use our QR code feature, click here and contact us.